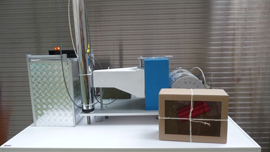 Two models of systems developed within the AiD project framework in August 2013 include:
SWAN system to detect hazardous materials
CANIS radiographic system.
Both models will help to demonstrate innovative solutions applied in the systems, first of all to potential customers attending various fairs/exhibitions, as wall as to experts in the field meeting at various professional conferences. CANIS was already shown at the Materials Testing w Anglii international exhibition (September 10-12, Telford, UK), both models are to be soon presented at the Milipol w Paryżu exposition (November 19-22, Paris, France).
Both models are to be permanently exposed in NCBJ Department of Education and Training where they will be used to illustrate lectures on applications of nuclear techniques in national economy. That way the Department didactic/educational offer will be enriched, while the AiD project and its outcomes will be promoted.
Model of Coline 6 medical accelerator, another system developed within the AiD project framework.